Uncategorized
Man Arrested with 465k pounds
A driver was arrested after up to £465,000 in banknotes was found in the back of a van.
Leicestershire's Roads Policing Unit tweeted two pictures of the substantial haul after the vehicle was pulled over in Roundhay Road, Leicester, on Wednesday night.
A statement issued by Leicestershire Police confirmed that the money was found during a stop-check search of the van.
The force said: "The driver has been arrested and remains in police custody.
"He will be transferred and questioned by West Midlands Police officers as the arrest relates to an ongoing West Midlands Police investigation."
Mirror Shared Services Limited
A spokesman for West Midlands Police said officers were still awaiting the transfer of the suspect to the force area.
The force announced the astonishing haul on social media.
Related: No-one's above the law! Police speak out after cop car gets parking ticket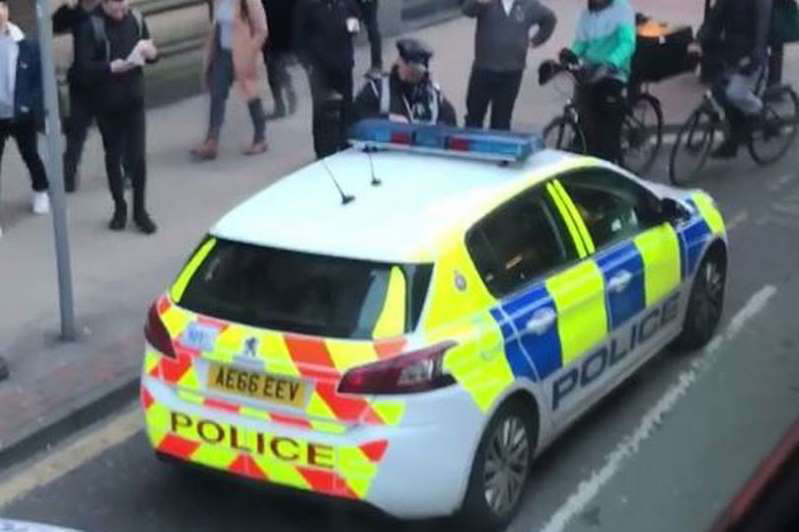 On Twitter, they wrote: "Following a stop check on a van earlier on today, we've seized quite a bit of cash out the rear of the vehicle!!
"We estimate it to be in the region of £465,000."
The tweet continued: "Driver has been arrested and will have some explaining to do."
Mirror Shared Services Limited
"Poor my thoughts and prayers are with him hopefully his money is returned to him safely," one unsympathetic Twitter user wrote after the force revealed the news.
more_horiz
Economics
Barabási Albert-László a CEU-n: Mennyit ér egy piszoár?
Barabási Albert-László a CEU-n: Mennyit ér egy piszoár?
"Mennyit ér egy piszoár? Attól függ, hol van: ha a szeméttelepen, akkor azért kell fizetni, hogy odakerüljön. A falra szerelve érhet 100-200 dollárt, a múzeumban viszont akár dollármilliókat is érhet, feltéve, hogy Duchamp egyik műveként van kiállítva" – szemléltette siker és teljesítmény viszonyát a Közép-európai Egyetem (CEU) Határtalan tudás című rendezvénysorozatának március 22-i alkalmából Barabási Albert-László sztárfizikus és hálózatkutató. A CEU és a Harvard hálózatkutató professzora Marcel Duchamp francia-amerikai avantgárd képzőművész 1917-es szobrával példázta: egy olyan tevékenység során, ahol a teljesítmény hagyományos módszerekkel nem mérhető, alapvetően a hálózat határozza meg, mekkora sikerre lehet számítani. 
Marcel Duchamp: Fountain (1917)
Fotó: Wikimedia Commons

Mi a siker titka? Erre a kérdésre kereste a választ a CEU estje, ahol a Behálózva, a Villanások és a Képlet című bestsellereket jegyző Barabási mellett Vedres Balázs szociológus, a CEU docense, valamint Palya Bea énekes-dalszerző osztották meg a közönséggel kutatási eredményeiket és személyes tapasztalataikat a témában. A szeptembertől Bécsbe kényszerülő magánegyetem nemcsak megismételte, túl is szárnyalta előadássorozatának első, február 7-i bravúrját. A budapesti Nádor utcai CEU-székház nagyelőadójában egy gombostűt sem lehetett leejteni. A teátrumszerűen elrendezett hatalmas csarnoknak még a lépcsőin is ültek.
Határtalan tudás 2.0: Barabási Albert-László, Palya Bea, Vedres Balázs és László FlóraFotó: Daniel Vegel/© 2019 Daniel Vegel

A kapcsolati hálók feltérképezése nemcsak arra adhat választ, hogy milyen viszonyok sejlenek fel a fegyverkereskedelem és a terrorizmus mögött, hanem azt is felfedik, hogy melyik karakter fog meghalni a Trónok harca következő részében. A digitális térben hagyott nyomokból kirajzolódik a felhasználók profilja, családjaik működése, és az is, hogyan fordítják a kibertérben lézengőket egymás ellen a különféle algoritmusok – nyitotta meg az eseményt Enyedi Zsolt, a CEU rektorhelyettese. Az est házigazdája, a CEU társadalmi felelősségvállalási irodáját vezető László Flóra saját kamasz fia problémafelvetésével adta meg az alaphangot: miért játszanak le a rádióban minden órában egy meglehetősen béna zeneszámot? Az esemény médiapartnereként felvonuló Qubit színeiben mi is feszülten vártuk a válaszokat.
Bár az iskolában ezt hazudják, a teljesítmény sajnos ritkán vezet sikerre
Egy futóversenyen az utolsóként célba érkező és a világ leggyorsabb emberének teljesítménye között mindössze egy százaléknyi a különbség, mégis előrevetíti, melyikük lesz sikeres. De ez csak azért van így, mert ebben az esetben a teljesítmény nagyon pontosan mérhető. Miközben az iskolában gyakorlatilag egymás szinonimájaként használják őket, a teljesítménynek és a sikernek matematikailag többnyire vajmi kevés köze van egymáshoz – mondta Barabási. Ez már csak azért is igaz, mert a teljesítményt az egyén produkálja, miközben a sikert a közönség osztja. Vagyis, foglalta össze a hálózatkutató, "a teljesítményed rólad, a sikered viszont rólunk szól". 
Barabási Albert-László a sikerről a CEU-nFotó: Daniel Vegel/© 2019 Daniel Vegel

Mindez különösen igaz a művészetre, ahol a siker mércéje nem a teljesítmény, hanem az elismerés. Ezt pedig Barabási kutatásai szerint elsősorban a hálózatok határozzák meg. A harvardi kutató a munkatársaival olyan algoritmust hozott létre, amelynek segítségével meglepő pontossággal megjósolható, mennyire lesz sikeres egy-egy művész. Az algoritmus alapja egy adatbázis, amelybe összegyűjtötték 140 ország több mint 460 ezer képzőművészének összesen 14,5 ezer galériában és múzeumban 1980 és 2016 között rendezett 444,5 ezer kiállítását. Mindezek alapján megrajzolható az adatbázisban szereplő kezdő művészek jövőbeli előmenetele. 
Az infografikákból kiderül, hogy a világ legnagyobb múzeumaiba, például a New York-i MoMA kiállítótereibe a Blum & Poe-hoz hasonló, kisebb, de ugyancsak magasan jegyzett galériákon keresztül vezet az út. Aki utóbbiakba eljut, számíthat rá, hogy meg sem áll a Guggenheimig. Az adatbázisból az is világosan látszik, hogy a Kelet-Európához hasonló művészeti szigetekből nem nagyon van bejárás a világszjnpadra. Más kérdés, hogy az alacsonybbról induló művészek is elérhetnek az abszolút csúcsra, igaz, nekik ehhez nagyon intenzív és még annál is kétségbeesettebb próbálkozásokon keresztül vezet az útjuk. "A karrierjük első éveiben, évtizedeiben kénytelenek össze-vissza kiállítani, mígnem véletlenszerűen rábukkanhatnak egy olyan központra, ahonnan útjuk nyílhat a halhatatlanságba".
A kapcsolatokat meg is kell tudni válogatni
Vedres Balázs szociológus, a CEU társadalmi hálózatokat és a változások összefüggéseit kutató docense azt is megkísérelte felfedni, hogyan. A problémát leginkább az jelenti, hogy hálózatépítéskor rossz döntések sorozatát hozzuk: olyanokhoz szeretünk kapcsolódni, akik már amúgy is népszerűek. Csakhogy ilyenkor a hálózatunkban egyetlen, vagy korlátozott számú embertől függnek az ötleteink, így azok nem lesznek elég változatosak. 
Vedres Balázs a sikerről a CEU Határtalan tudás rendezvénysorozatánFotó: Daniel Vegel/© 2019 Daniel Vegel

Az sem szerencsés, ha a hozzánk hasonlókkal keressük a kapcsolódási pontokat, mert ilyenkor megfosztjuk magunkat az újszerű ötletektől. Az ismerőseink ismerőseivel való kapcsolódás is zsákutca, mert így bezáródnak a hálózatok, ami ugyancsak megakasztja az ötletek szabad áramlását. A megoldás Vedres szerint az, ha egy csapaton belül erős, de nyílt végű kapcsolatokat létesítünk. A kreativitás kimaxolásához a nyitott hálózatokon keresztül vezet az út. 
A jótanácsok a vállalati struktúrákba is könnyedén átültethetők. A CEU előadójában pallérozódni vágyó menedzserek Vedrestől megtudhatták, hogy tévedtek, ha azt hitték, hogy tíz emberből két ötfős csapatot érdemes alkotniuk. Miért is tennék, ha alkothatnak két hatfőst is, és ehhez még csak nem is kell felvenniük két további munkaerőt. Elég, ha átfedő teameket hoznak létre: 4-4 állandó csapattag mellé rendelnek két olyan embert, aki mindkét csapatnak a tagja.
Az önazonosság fél siker
Palya Bea énekes-dalszerző ehhez azért még hozzátette, hogy a sikerre vágyók legnagyobb barátja az önazonosság. Saját eredményei sarokköveinek azt tartja, hogy megtanulta használni természet adta tehetségét, a hangját. 
Palya Bea a sikerről a CEU-nFotó: Daniel Vegel/© 2019 Daniel Vegel

Mindez azonban még kevés lett volna, mondta Palya Bea, ha nincs meg benne az az ambíció, amellyel az élete árán is énekes-dalszerzővé szeretett volna válni.  A képességei csiszolgatása után rá kellett jönnie, mit akar tőle a közönsége és ő mit kíván cserébe. Hálózatát, mint mondja, az önazonosság hívta életre. Ezután már csak néhány berögzült mítosztól kellett megszabadulnia. Olyanoktól, mint hogy a "művész ösztönös zseni", vagy hogy "szégyellni kellene, hogy a zenélésből igenis meg lehet élni".

more_horiz
Entertainment
BRAIN BAR
more_horiz
Uncategorized
Bomb Found in London's University
University of Glasgow building evacuated and cordoned off after 'suspicious package' found (Newsflare All Videos)
A suspicious package found at the University of Glasgow "looks to be linked" to explosive devices sent to three London transport hubs on Tuesday, Sky sources have said.
A controlled explosion was carried out on the suspicious package, which was found at the university's mail room on Wednesday, police said.
Sky correspondent David Bowden said: "We know from our own sources that the Met are linking this Glasgow potential device.
A controlled explosion was carried out on the package in Glasgow "There will have been something within that packaging that looked, felt, or was put together in a similar way to the other three."
This afternoon, a package was found at Parliament and investigated but it was later deemed to be non-suspicious.
Read more: New IRA terror fears after firebombs sent to Heathrow, Waterloo and City Airport (Daily Mirror)
Assistant Chief Constable Steve Johnson said the package in Glasgow was not opened and there were no injuries to university staff or students.
However, several buildings were evacuated as a precaution.
"

The package in Glasgow was not opened and there were no injuries
ACC Johnson said: "A controlled explosion of the device was carried out this afternoon by EOD (Explosive Ordnance Disposal).
"Police Scotland is liaising with the Metropolitan Police in relation to their investigation into packages received in London yesterday.
"However, it is too early to say whether there is a link."
On Tuesday, explosive devices were discovered at Waterloo Station and buildings near Heathrow and London City airports.

Police Scotland is liaising with Met Police in London over the package The devices were small and, while one package was opened, there were no injuries.
At least two of the packages appeared to have Irish stamps on them and Irish police are assisting the Met Police with that investigation.
Dean Haydon, Britain's senior national co-ordinator for counter-terrorism policing, said a sender had not yet been identified.
He added: "We are talking to our Irish counterparts but at the moment there's nothing to indicate motivation of the sender or ideology, so I cannot confirm at the moment if it's connected to any Ireland-related terrorist groups."
At 4.30pm, Essex Police said: "Following an investigation we have established that the package posed no risk to the public.
"We thank you for your support and patience as we managed this incident."
Police were also called over a package found at a Royal Bank of Scotland branch in Edinburgh but it contained only "promotional goods", officers said.
more_horiz
Natural science
First Air-to-Air Images of Supersonic Shockwave
NASA Captures First Air-to-Air Images of Supersonic Shockwave Interaction in Flight
"We never dreamt that it would be this clear, this beautiful."
Physical Scientist J.T. Heineck of NASA's Ames Research Center in Mountain View, California gets his first glimpse at a set of long-awaited images, and takes a moment to reflect on more than 10 years of technique development – an effort that has led to a milestone for NASA's Aeronautics Research Mission Directorate.
NASA has successfully tested an advanced air-to-air photographic technology in flight, capturing the first-ever images of the interaction of shockwaves from two supersonic aircraft in flight.
"I am ecstatic about how these images turned out," said Heineck. "With this upgraded system, we have, by an order of magnitude, improved both the speed and quality of our imagery from previous research."
The images were captured during the fourth phase of Air-to-Air Background Oriented Schlieren flights, or AirBOS, which took place at NASA's Armstrong Flight Research Center in Edwards, California. The flight series saw successful testing of an upgraded imaging system capable of capturing high-quality images of shockwaves, rapid pressure changes which are produced when an aircraft flies faster than the speed of sound, or supersonic. Shockwaves produced by aircraft merge together as they travel through the atmosphere and are responsible for what is heard on the ground as a sonic boom.
The system will be used to capture data crucial to confirming the design of the agency's X-59 Quiet SuperSonic Technology X-plane, or X-59 QueSST, which will fly supersonic, but will produce shockwaves in such a way that, instead of a loud sonic boom, only a quiet rumble may be heard. The ability to fly supersonic without a sonic boom may one day result in lifting current restrictions on supersonic flight over land.
The images feature a pair of T-38s from the U.S. Air Force Test Pilot School at Edwards Air Force Base, flying in formation at supersonic speeds. The T-38s are flying approximately 30 feet away from each other, with the trailing aircraft flying about 10 feet lower than the leading T-38. With exceptional clarity, the flow of the shock waves from both aircraft is seen, and for the first time, the interaction of the shocks can be seen in flight.
"We're looking at a supersonic flow, which is why we're getting these shockwaves," said Neal Smith, a research engineer with AerospaceComputing Inc. at NASA Ames' fluid mechanics laboratory.
"What's interesting is, if you look at the rear T-38, you see these shocks kind of interact in a curve," he said. "This is because the trailing T-38 is flying in the wake of the leading aircraft, so the shocks are going to be shaped differently. This data is really going to help us advance our understanding of how these shocks interact."
The study of how shockwaves interact with each other, as well as with the exhaust plume of an aircraft, has been a topic of interest among researchers. Previous, subscale schlieren research in Ames' wind tunnel, revealed distortion of the shocks, leading to further efforts to expand this research to full-scale flight testing.
While the acquisition of these images for research marked one of the goals of AirBOS, one of the primary objectives was to flight test advanced equipment capable of high quality air-to-air schlieren imagery, to have ready for X-59's Low-Boom Flight Demonstration, a mission that will use the X-59 to provide regulators with statistically valid data needed for potential regulation changes to enable quiet commercial supersonic flight over land.
While NASA has previously used the schlieren photography technique to study shockwaves, the AirBOS 4 flights featured an upgraded version of the previous airborne schlieren systems, allowing researchers to capture three times the amount of data in the same amount of time.
"We're seeing a level of physical detail here that I don't think anybody has ever seen before," said Dan Banks, senior research engineer at NASA Armstrong. "Just looking at the data for the first time, I think things worked out better than we'd imagined. This is a very big step."
Additional images included a "knife-edge" shot of a single T-38 in supersonic flight, as well as a slow-speed T-34 aircraft, to test the feasibility of visualizing an aircraft's wing and flap vortices using the AirBOS system.
The images were captured from a NASA B-200 King Air, using an upgraded camera system to increase image quality. The upgraded system included the addition of a camera able to capture data with a wider field of view. This improved spatial awareness allowed for more accurate positioning of the aircraft. The system also included a memory upgrade for the cameras, permitting researchers to increase the frame rate to 1400 frames per second, making it easier to capture a larger number of samples. Finally, the system received an upgraded connection to data storage computers, which allowed for a much higher rate of data download. This also contributed to the team being able to capture more data per pass, boosting the quality of the images.
In addition to a recent avionics upgrade for the King Air, which improved the ability of the aircraft to be in the exact right place at the exact right time, the team also developed a new installation system for the cameras, drastically reducing the time it took to integrate them with the aircraft.
"With previous iterations of AirBOS, it took up to a week or more to integrate the camera system onto the aircraft and get it working. This time we were able to get it in and functioning within a day," said Tiffany Titus, flight operations engineer. "That's time the research team can use to go out and fly, and get that data."
While the updated camera system and avionics upgrade on the B-200 greatly improved the ability to conduct these flights more efficiently than in previous series, obtaining the images still required a great deal of skill and coordination from engineers, mission controllers, and pilots from both NASA and Edwards' U.S. Air Force Test Pilot School.
In order to capture these images, the King Air, flying a pattern around 30,000 feet, had to arrive in a precise position as the pair of T-38s passed at supersonic speeds approximately 2,000 feet below. Meanwhile, the cameras, able to record for a total of three seconds, had to begin recording at the exact moment the supersonic T-38s came into frame.
"The biggest challenge was trying to get the timing correct to make sure we could get these images," said Heather Maliska, AirBOS sub-project manager. "I'm absolutely happy with how the team was able to pull this off. Our operations team has done this type of maneuver before. They know how to get the maneuver lined up, and our NASA pilots and the Air Force pilots did a great job being where they needed to be."
"They were rock stars."
The data from the AirBOS flights will continue to undergo analysis, helping NASA refine the techniques for these tests to improve data further, with future flights potentially taking place at higher altitudes. These efforts will help advance knowledge of the characteristics of shockwaves as NASA progresses toward quiet supersonic research flights with the X-59, and closer toward a major milestone in aviation.
more_horiz
There are no more articles
There are no more articles
There are no more articles
Loading...